Address:
Location : NH - 9, Rayangudem village City : Suryapet Opens : Mon - Sun 24 hours
Description
History
The 7 story was a culmination of the dreams of its founders Mr.Yarlagadda Rajashekar Babu and Mr.Tummala Nagaprasad. Having traveled around the globe while establishing an educational conglomerate, they realized that the discerning Indian customer never got to experience fine dining in the vast Indian Highway network. What they got to see were dirty dhabas or semi furnished dingy restaurants. This propelled them to bring out about a paradigm shift to highway dining in India.
What's New ?
First state of the art, professionally run 24X7 highway restaurant in India .
Promoted by a dynamic business conglomerate – People Combine
Managed by a dynamic group of hospitality professionals
High quality multi-cuisine offerings with an ever increasing loyal following of Celebrities and highway travellers
Multi brand associations – Subway, Café Coffee day, Baskin & Robbins
Added attractions like Children's play area, Car wash, wheel chairs.
7 – Wonders of great dining!
7 is a hot and happening hospitality brand in Hyderabad today. Promoted by the educational conglomerate People Combine, 7 is currently building a slew of food courts and restaurants in Andhra Pradesh.
The jewel in 7's crown being its first hi-end "Highway Food Court 7 at Suryapet", mid-way between Hyderabad and Vijayawada.The 40,000 sq.ft food court for the high end traveller spread over a hectare of land caters to the health and hygiene conscious sophisticated highway traveller.
Our motto is simple and straight – Get into your hearts with great culinary offerings and exemplary standards in customer service.
7 is a true synergy of taste and quality and a wonderful gateway to the multiple flavors of indian cuisine!
7..Refresh-Recharge-Restart
7 is a dynamic hospitality venture to bring fine dining to the wonderful state of Andhra Pradesh. In less than 2 years, 7 has established the finest highway restaurant in India, on the verge of opening its city restaurant at Hyderabad and prepared a clear and concrete roadmap to establish multiple highway and city restaurants all over India.
7 is the flagship brand of People Combine Hospitality, the hospitality arm of the thriving People Combine Group. The group's first taste of success is the Highway 7 restaurant that is currently operational at Suryapet, 135 kms from Hyderabad.
Set in a 5 acre property of lush greenery, Highway 7 is a pleasant surprise for the discerning highway traveler. A gastronomic delight waiting to entice you with multi cuisine offerings. Open 24 X 7, Highway 7 has over 200 qualified staff keen to provide you the best highway dining experience in India.
2011 will be a landmark year for 7 with many more restaurant ventures in the pipeline.
Welcome to 7 – your one stop destination for great food!
The first 7 restaurant for the Highway got established in Suryapet, Andhra Pradesh close to 15 months ago and now a popular destination for many travellers.
The first 7 restaurant for the city is to be opened soon at Hyderabad.
Flyer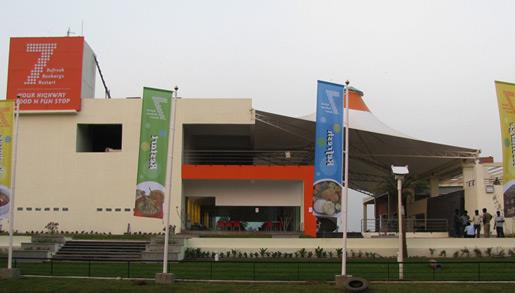 http://www.foodseven.com/